Chai Cupcakes! You know how much I love my chai and it was about time that I incorporated it into my all-time favourite sweet treat, cupcakes!! How do you like the sound of these beauties?! They are absolutely perfect for Christmas and I just couldn't wait to share these with you!
I actually made these back in October, since I'm away at the moment, I had to be well prepared and organised. Now you know just how excited I am to finally share these chai cupcakes with you because I know many of you love chai as much as I do.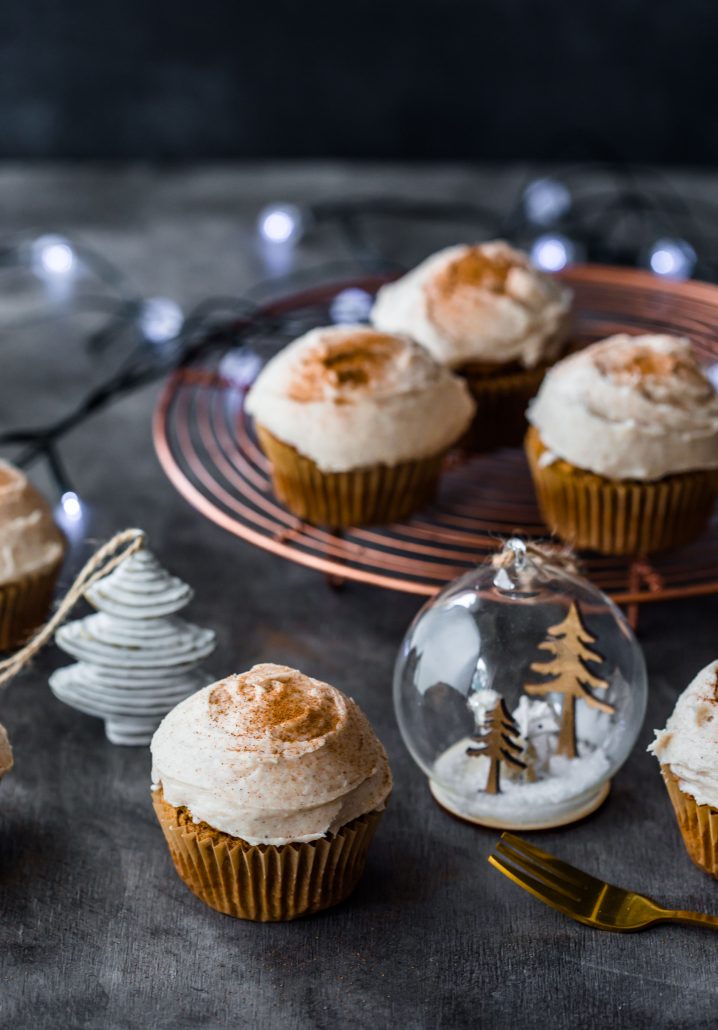 You got all your classic spices of chai blended into the cake batter and also a little cinnamon and cardamon in the fluffy frosting. You'll want to whip up a batch of these cupcakes for the holiday season and I'm sure you won't just be making one batch, there will be many!!! Enjoy!
Chai Cupcakes
Author:
Wholesome Patisserie
Recipe type:
Cupcakes, Gluten Free
Serves:
12 regular cupcakes
Ingredients
Cupcakes
2 Tbsp coconut oil or unsalted butter, melted
1 cup gluten free all purpose flour, I use this brand
2 tsp baking powder
1 cups coconut sugar
1 tsp ground cardamon
1 tsp ground cinnamon
1 tsp ground all spice
1 tsp ground clove
1 tsp ground ginger
½ tsp ground nutmeg
¾ cup almond milk or any thin non-dairy milk of choice
2 large eggs
1 tsp vanilla bean extract
Frosting
70g unsalted butter, chopped into chunks
4-5 cups icing sugar
3-4 Tbsp almond milk or any non-dairy milk of choice
1 tsp vanilla bean extract
½ tsp ground cinnamon
½ tsp ground cardamon
1 tsp ground cinnamon, for dusting
Method
Cupcakes
Preheat oven to 180ºC (356ºC). Line a 12-hole cupcake pan with cupcake patty liners, set aside.
Melt coconut oil/butter first and then set aside to cool to room temperature.
In a large mixing bowl, combine flour, baking powder, sugar, spices, milk, eggs and vanilla.
Pour in melted coconut oil/butter.
Using a hand mixer, or a stand mixer fitted with the paddle attachment, beat the mixture for 1 minute on medium speed. Scraping down the sides when needed.
Spoon batter evenly between cupcake patties, filling each just over half way.
Bake for 15-20 minutes or until a skewer inserted into the middle comes out clean and the tops of the cupcakes spring back when touched.
Remove and cool in pan for 5 minutes.
Remove cupcakes from pan and transfer to a wire rack to cool completely.
Frosting
In the bowl of a stand mixer, add butter. Whisk for 30 seconds or until just soft.
Gradually add icing sugar, 1 cup at a time.
Between additions of icing sugar, add milk, 1 tablespoon at a time, beating until light and fluffy.
Add vanilla and spices, beat for a further 30 seconds until well blended, light and fluffy.
Top each cupcake with a large dollop of the frosting and smooth out. Dust each cupcake with extra cinnamon.
Serve and Enjoy!
Notes
Store cupcakes in an airtight container, in the pantry, for 5-7 days.